Happy fall! This is my FAVORITE TIME OF YEAR and I am so excited to share that over this past weekend I reached a personal goal of mine…I hit 1,000 FOLLOWERS in my TpT Store!!! I am so thankful to everyone for all of their support, and I feel so incredibly blessed! 🙂
So, let's celebrate with some pumpkins!!! Tis' the season of teaching fact and opinion, so I want to share (for FREE) my Fact and Opinion Pumpkins: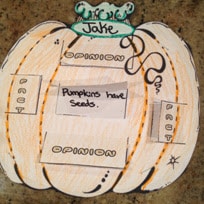 This activity is SO MUCH FUN to do after a fall read aloud! Together as a class we brainstorm various facts and opinions about the story and then students choose their facts and opinions to add to their pumpkins. When these are colored and finished they make a beautiful bulletin board display!
Another fun, hands-on way to teach fact and opinion is by giving each table group a REAL PUMPKIN…yes, this is messy, but so much fun! I prep the pumpkins by cutting off the tops and then students get to "dissect" the pumpkins, talking about facts and opinions about their pumpkins. After the "dissection is over," we then complete our Fact and Opinion Pumpkins.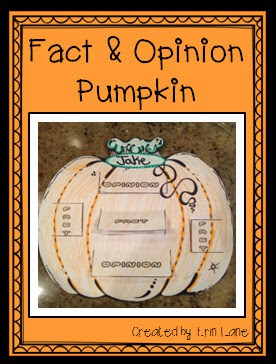 You can grab your free Fact and Opinion Pumpkin HERE!
This activity does require some prep with cutting the "flaps," so I always enlist a handy-dandy parent volunteer. If you don't have any volunteers, don't fret, you can get a class set of pumpkins prepped in about 15-20 minutes by cutting the flaps yourself, and letting students staple and cut out the pumpkins.
I hope you enjoy and thanks so much to everyone who is following along….you have blessed my life!