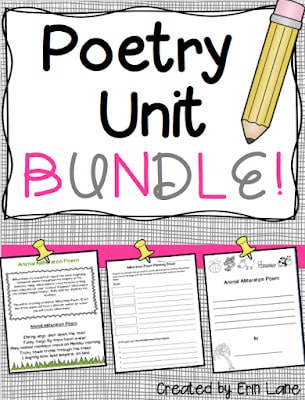 Spring is in the air, and that means it's time for some POETRY!!!! Each year, after Spring Break, I embark upon a five week long poetry unit during our Writer's Workshop time. Students are introduced to 14 different types of poems over the five weeks. Students get the opportunity to create their own poems, and compile a final Poetry Book (which happens to be the FAVORITE display at Open House!). At the end of our poetry unit, I host an Author's Tea, in which I invite other classes (or I have done it by inviting parents) to come and listen to poems from students' Poetry Books.
During this writer's workshop poetry block, I follow the same format for every poem. First, I use my Poetry Introduction Page to introduce a new type of poem and show students an example of that type of poem. Next, students receive the Poetry Planning Sheet for the particular poem that I just introduced. This planning sheet will help walk them through, step-by-step, in creating their own poem. This sheet serves as the rough draft too. Depending on the type of poem (how involved it is) students either stop here for the day, or move onto the final steps.
After the planning sheet page (rough draft) is completed, students have a chance to edit/revise. I allow them to partner up and read their poems aloud. This often helps them either think of new word choices, or "hear" any errors aloud. Then, students are able to choose from the different final copy papers I have printed out…I like giving them choices. Finally, students write their final copy of the poem and color in any graphics and/or add designs and color. Students turn in their rough draft planning sheet to me and place the final copy in their "On Hold" pocket of their Writer's Workshop Folder. At the end of the unit, we compile these into a final poetry book.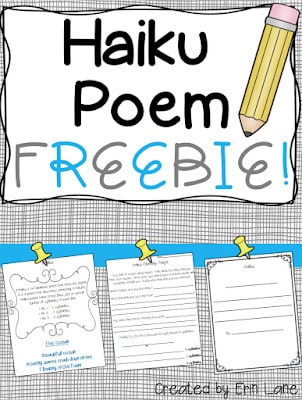 Here is a FREEBIE so you can see what an introduction page, planning sheet, and final copy paper look like. This is for Haiku Poetry, which is perfect for spring time!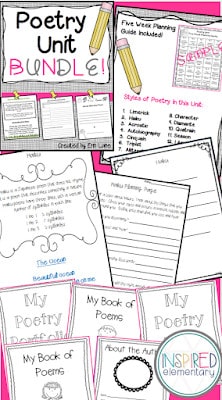 You can see the entire bundle HERE!