Spelling centers are such a fun way to incorporate spelling activities that reinforce the weekly vocabulary and spelling words that students are learning! I must admit, spelling was not always a highlight in my classroom. In fact, I remember my first year of teaching, we had the standard spelling pre-test on Monday and post-test on Friday, and maybe somewhere in between I would squeeze in a spelling activity. Let me just say, spelling was not a high point for my students.
So, my second year of teaching I was on a mission to create FUN, interactive activities that could be done as a literacy center in class, as well as for weekly spelling choice homework. If you've been following along with me for awhile, you know that I am all about engaging activities that spark that love of learning. Thankfully, after some trial and error, I finally developed a successful spelling center that was fun for the students and low-prep for me! WIN-WIN!  Here's how I set the spelling center up:
I knew I wanted an easy-access, quick-to-refill system, so I opted to use a file crate. I set up file folders and put the spelling activity names on each of the file tabs. Easy peasy! In fact, in my Spelling Activities Pack I included pre-printed file tabs just like these: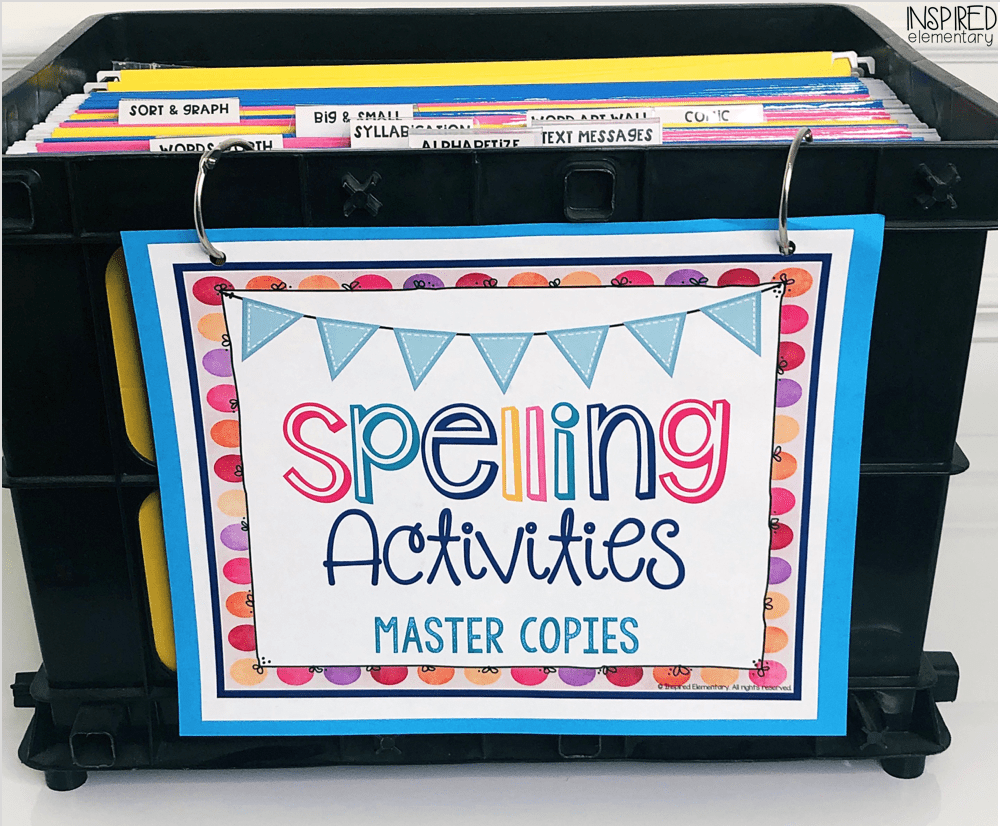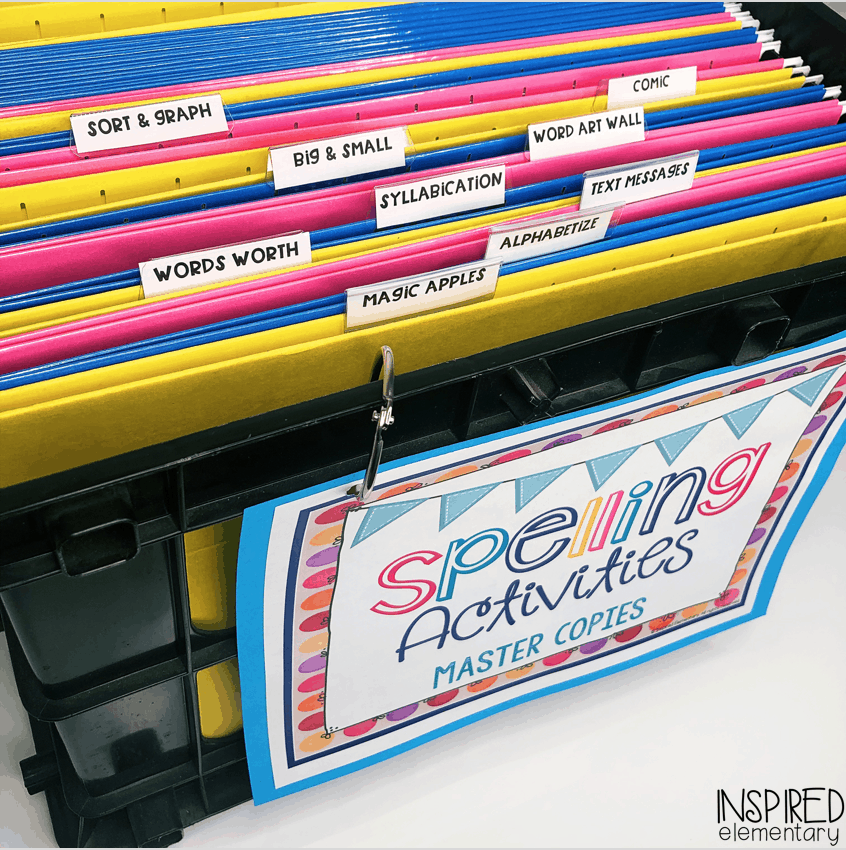 Initially, I only had eight different activities for students to choose from. However, these eight activities quickly became a favorite center time for students, so I started creating more! Soon, I had over 20 activities and now I'm up to 35 FUN ACTIVITIES that students love!
In each file folder, I keep 50-75 copies of the spelling activity. Once a week, a parent volunteer checks the spelling center to replenish any activity sheet that's running low. In the back of the spelling crate, there is a "master" file, so my parent volunteer can easily access activities to photocopy in a certain activity is getting low. This center is seriously so low-maintenance!
Sometimes I assign a specific activity for centers, or as homework, and other times I just let students have free choice. It is amazing how even during our weekly P.A.T. (Preferred Activity Time) students chose to do a spelling center activity as their free choice.
I want to share a few of my (and my students') favorite spelling activities as a FREEBIE! There are three different activities included and you can download the FREEBIE HERE:
I hope setting up your spelling center is a breeze!