February is here and Valentine's Day is right around the corner! Two things I love most about Valentine's Day are the "feel good fuzzies" you get from someone else's kind words, and the all yummy candy hearts. So I created a writing activity that includes both and is perfect for the month of February…My Jar of Hearts.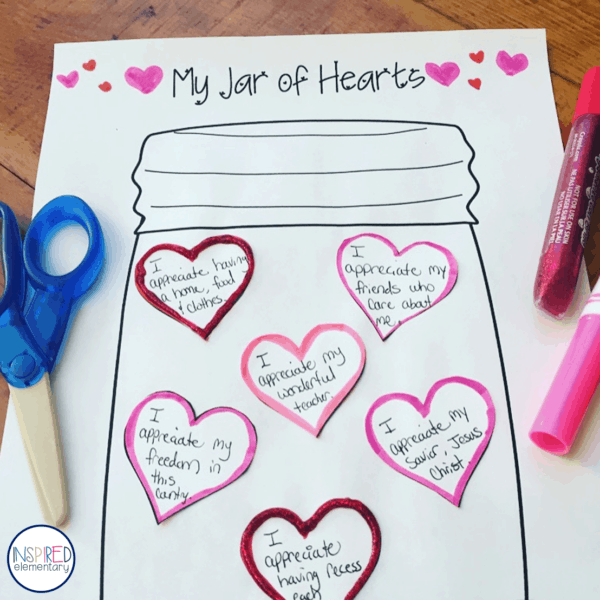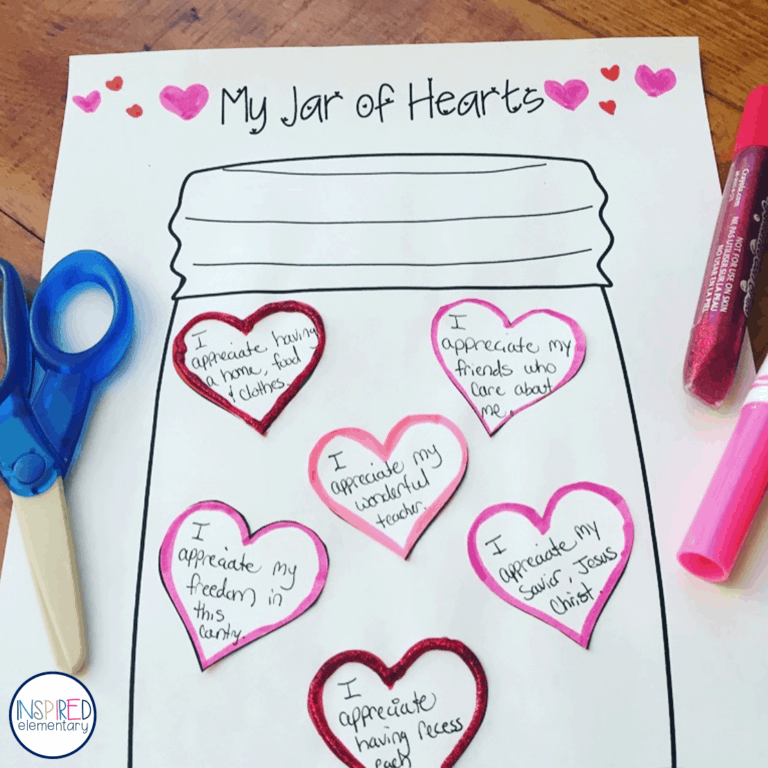 Here's how the lesson goes:
A week before, or the week of Valentine's Day, I place a glass jar in the classroom. At the end of each day I have students share out things for which they are appreciative (or you can do the things they love). I write down six "appreciations" on the board, listed in numerical order.
– example –
1. I appreciate my friends playing with me.
2. I appreciate that I had a delicious lunch today.
3. I appreciate that my parents work hard to support me.
4. I appreciate my mom driving me to school.
5. I appreciate my freedom.
6. I appreciate a break at recess time.
Every student that shares out gets a candy heart…yum! Then, I roll a die, and for the number that comes up (1-6) I write that corresponding "appreciation" from the board down on a paper heart cut-out (or I have a student write it for me – depending on the grade level). I do this with a few hearts each day and place them in the class "Jar of Hearts."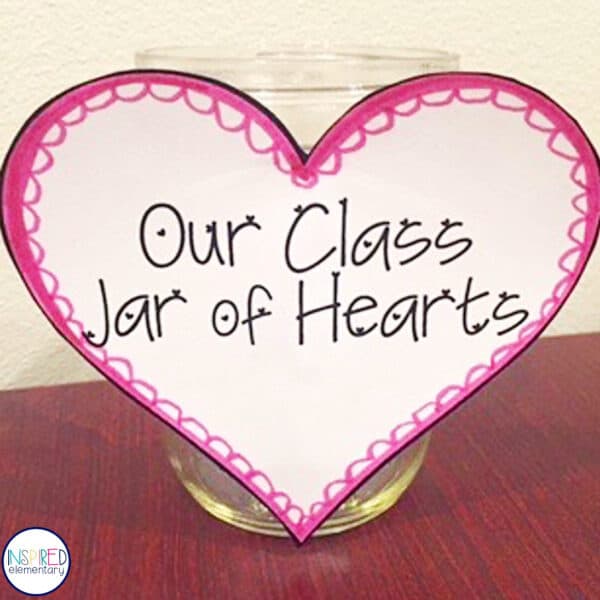 The week of Valentine's Day we start our My Jar of Hearts writing activity. To begin the lesson, I pull out all of the hearts from the class appreciation jar (or love jar) and read them aloud again to get students brainstorming. Then, I give each student a page of hearts pre-write (freebie below) to let them write down their own things in their lives for which they are most appreciative or love the most. Students cut out their hearts and glue them onto a jar.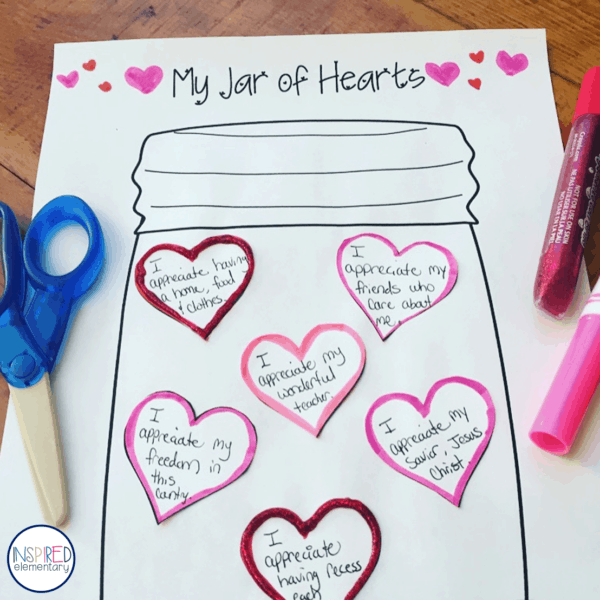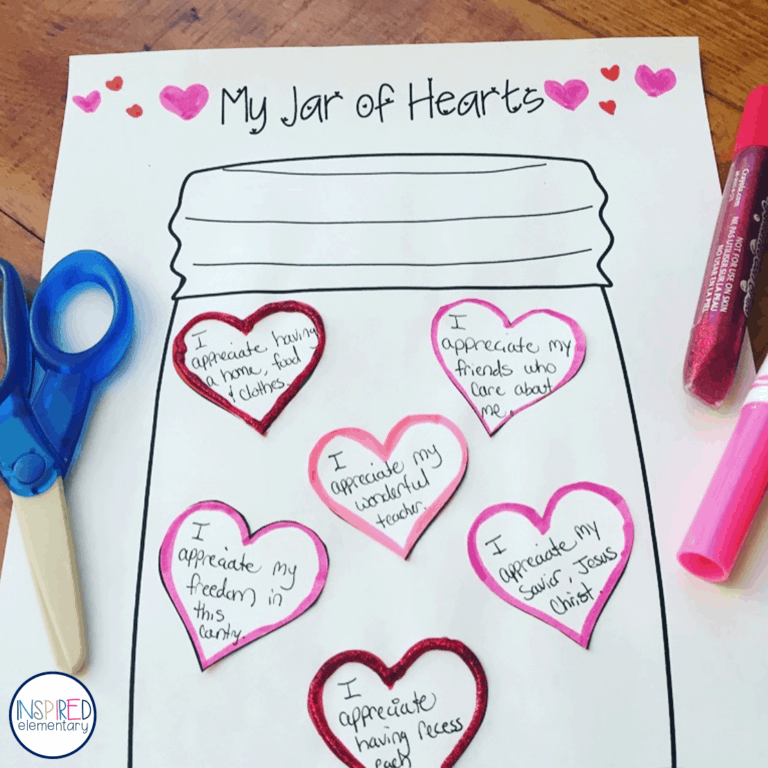 Depending on the grade level, students can use these Jar of Hearts pre-writes to develop a letter to someone, a "Dear Diary" entry, a paragraph, or a poem for all the things they appreciate and love. You can use any kind of final copy paper, but my FAVORITE way for students to complete their writing piece is by using 3D HEARTS! Students love writing and decorating their hearts and they make the cutest February 3D bulletin board!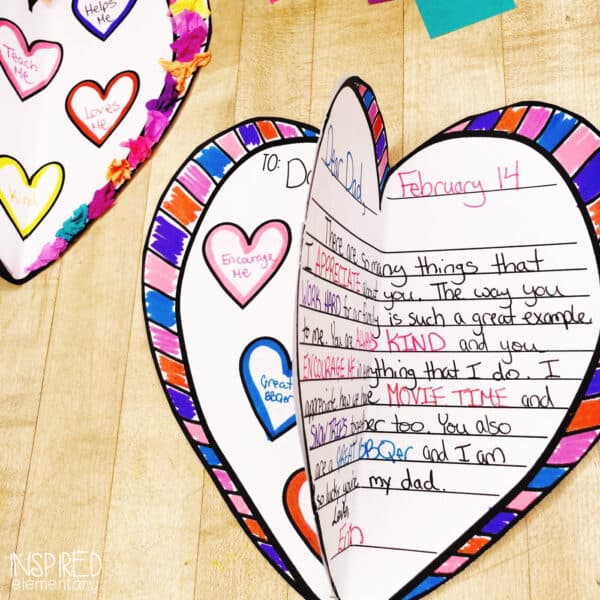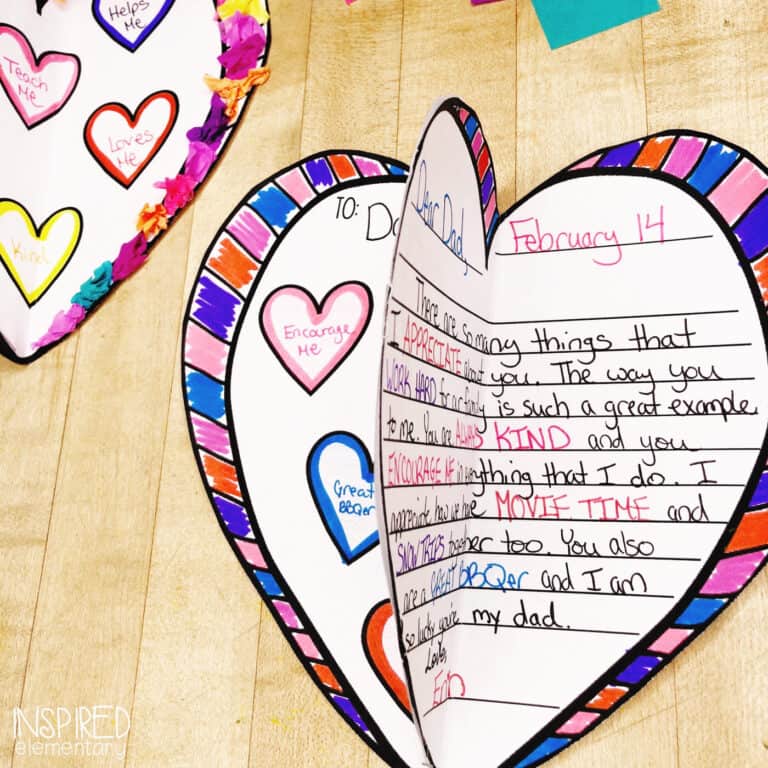 Materials needed for the lesson:
1 large glass jar (a mason jar works great)
1 bag of candy conversation hearts
10-12 paper heart cut-outs
Photocopies of My Jar of Hearts Writing Freebie for each student
Optional 3D Hearts Writing Activity
You can grab the FREE My Jar of Hearts brainstorm pages here…
I hope you enjoy this activity, and don't forget to tag me @InspiredElementary to share your Jar of Hearts!